Tech For Non-Techies
We teach Business Leaders how to Speak Tech and succeed in the Digital Age.
Corporate & individual training programs.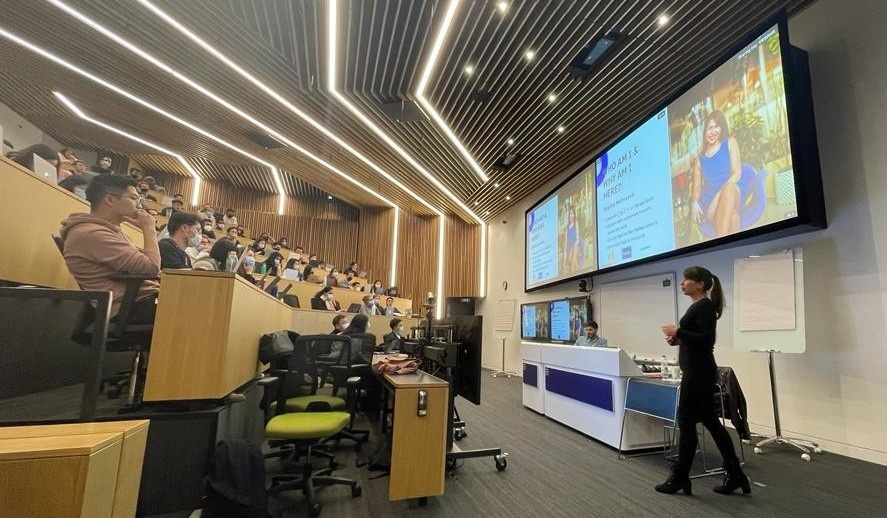 For Individuals 
Our memberships helps Business Leaders break into careers in tech, launch tech ventures and lead digital transformation.
Explore membership
Corporate programs
If you want to increase productivity, innovation & diversity, your non-technical teams simply Speak Tech.
Explore corporate programs
Webinars & Events
Live events and webinars with successful founders, investors, product managers, designers and more.
Explore events
Sign up to our mailing list
Get invitations to our events, courses and insights
Our classes have been taught at
Meet your instructor
Sophia Matveeva is the CEO & founder of Tech For Non-Techies, an education and executive coaching company. Sophia has contributed to the Harvard Business Review, Financial Times, The Guardian and Forbes on entrepreneurship and technology, and hosts the top rated Tech for Non-Techies podcast.

Tech for Non-Techies teaches business leaders how to Speak Tech and succeed in the Digital Age through corporate & individual training programs.

As a non-technical founder, Sophia has co-created apps and algorithms that have been used by thousands, won App of the Day by Mashable, and were featured by Inc, the BBC and more.
 
She has also guest lectured at the University of Chicago, London Business School, and Oxford University, and led the Blackstone x Techstars accelerator at the University of Texas at El Paso.
 
Sophia is a start-up mentor at the Chicago Booth Polsky Center of Entrepreneurship, and sits on the Advisory Board of Riviter, a generative AI company.
 
She holds an MBA from Chicago Booth, and a BSc (Hons) in Politics from Bristol. She speaks English, Russian and French.
Samantha Constance, Assistant Director, Career Development, University of Chicago
"Sophia was a wonderful presenter providing actionable and motivating tips for fellow UChicago alumni. She provided insights on how to effectively work in the tech business without having a tech background, touching on product management, front-end vs back-end development, user experience design and testing, and analytics. We loved working with Sophia!"
Understand the cyclical nature of making tech products
Traditional businesses follow a linear process. Tech companies follow a cyclical one, so they can learn and iterate on the go. If you understand which steps to take to build an app or site, and in what order, you will know enough to be dangerous.
We've created a short and practical guide on the key concepts you need to know to go from idea to live product.

We created this to save you time, money and stress.
Get our FREE guide